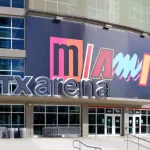 Miami Heat coach Erik Spoelstra told reporters Wednesday that guard Tyler Herro will not play in Game 1 of the 2023 NBA Finals against the Denver Nuggets on Thursday, June 1st because of a lingering hand injury. Spoelstra said of Herro, "He's not there yet." Herro suffered a fractured hand during the Heat's first-round series against the Milwaukee Bucks on April 16th; he has only played two play-in tournament games fully, against the Hawks and Bulls. Miami went on to defeat the Bucks, Knicks and Celtics without Herro, reaching the Finals.
No formal timetable has been given, but Herro is expected to return to the court at some point during the NBA Finals, per ESPN's Marc J. Spears.  TNT's Chris Haynes reported on Monday night that Herro could be expected back by Game 3 of the Finals, which will take place on Wednesday, June 7.
Herro – the 2022 NBA Sixth Man of the Year — averaged 20.1 points, 5.4 rebounds and 4.2 assists per game in the 2022–23 regular season to go with a league-leading .934 free-throw percentage.
Editorial credit: Katherine Welles / Shutterstock.com