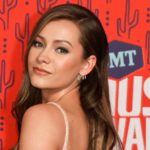 On Thursday, 26-year-old Taylor Dye — one-half of the country music duo Maddie & Tae — announced on Instagram that she and husband Josh Kerr, 30, welcomed a baby girl born three months early. Dye has been hospitalized over a month due to complications following a routine pregnancy checkup at 24 weeks; her original due date was early April.
Both Dye and Kerr shared images of their daughter in a joint Instagram post with the caption: "Leighton Grace Kerr, born January 17, 2022 // she's beautiful, strong and everything we have ever dreamed of. She decided to be a Capricorn like her daddy. We already can't wait for the day we get to finally take her home

."  Baby Leighton was born weighing just 2 lbs., 5 oz.
Dye revealed that she was expecting her first baby with Kerr in an Instagram post last November, saying: "Mom and dad
baby Kerr is joining us earthside in spring '22 and we are already so deeply in love. swipe to find out what we're having!" They later shared Dye's pregnancy complications, saying: "Today marks 1 month of being in the hospital. T went in for a routine check up at 24 weeks then we were immediately admitted and we have been here since. Our sweet girl is doing great, she is just a little more excited than she is ready to be in the world."
Editorial credit: Debby Wong / Shutterstock.com