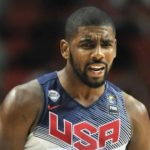 On Thursday, the NBA fined Brooklyn Nets' guard Kyrie Irving $25,000 for 'directing obscene language' toward a fan. The incident occurred with 4:19 remaining in the second quarter of the Nets' 114-107 loss to the Cavaliers on Jan. 17.
Irving began the season away from the Nets because he was not vaccinated (New York City's COVID-19 laws meant he could not play in New York). The team initially chose not to have Irving play in road games, but as the Nets lost players to health and safety protocols in December, they welcomed Irving back part-time.
In five games, Irving is averaging 22 points, five rebounds and 5.4 assists. The Nets are No. 3 in the Eastern Conference with a 28-16 record.
Editorial credit: Marcos Mesa Sam Wordley / Shutterstock.com