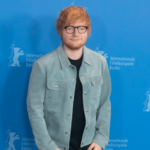 After they performed together at the Academy of Country Music Awards last week, pop star Ed Sheeran has officially released his duet version of "Life Goes On" with Luke Combs. You can take a look at the duo's performance at the ACMs – here.
Sheeran told ACM host Garth Brooks that he'd first heard Luke's music through a friend, and they ended up meeting in 2018, adding: "We've just been friends for years now, and it's been great." 'Life Goes On", inspired by the death of Ed's best friend Jamal Edwards, original appeared on Ed's new album, 'Subtract'.  Said Luke: "I was super excited when Ed reached out to me. He sent this song and said he wanted to do it on the ACMs and then shortly after said he wanted to do a full-blown recorded version of it … I've been a fan of his for a long, long time. He's an incredible singer and an incredible songwriter and we've been buddies for a couple years, so this is a dream come true."
Ahead of the ACMs, Sheeran said that he would love to "transition to country," praising its focus on great songwriting.  Sheeran lived in Nashville on/off between 2013 and 2018,
Take a listen to Combs' and Sheeran's studio version of "Life Goes On" – here.
Editorial credit: Cineberg / Shutterstock.com