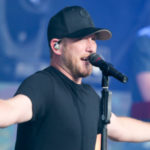 Cole Swindell has released the video for his song "Down To The Bar," filmed in downtown Nashville.  The song is the namesake of Swindell's headlining Down To The Bar Tour, which he wrapped-up last month. The high-energy video stars Hardy, as well as his Down To The Bar Tour tourmates Travis Denning and Ashley Cooke.
Said Swindell: "I had so much fun on my Down To The Bar Tour with Travis and Ashley out on the road with me this spring. We just carried that good time over to this video and I hope fans can see how much fun that tour was for all of us. This video would not have been the same without them and it's awesome to have HARDY be such a big part of the song/video as well. They added a lot to the tour and it just felt right to have them in the video that the tour was named after."
"Down To The Bar" was written by Swindell, Michael Hardy, Jordan Schmidt and Josh Thompson. Take a look at the video for "Down To The Bar" (featuring Hardy) – here.
Editorial credit: Debby Wong / Shutterstock.com