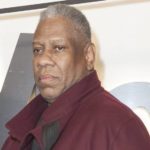 The fashion world and celebrities are mourning the loss of André Leon Talley, who passed away on Tuesday at the age of 73. Talley died in at White Plains Hospital from an unknown illness; his friend Darren Walker, the president of the Ford Foundation, confirmed the news in a statement, saying: "André Leon Talley was a singular force in an industry that he had to fight to be recognized in."
Talley became the first African American creative director of Vogue in 1988, where he worked closely with editor-in-chief Anna Wintour before departing in 1995. He returned to the publication in 1998 and served as editor-at-large until 2013.
Kim Kardashian posted on her Instagram Story along with photo of herself holding hands with the fashion legend: "Love you Andre," while Kris Jenner wrote: "I am so saddened to hear of the passing of André Leon Talley. We shared some very memorable times together and I will always remember how kind he was to me and my family."  Actress Cynthia Erivo posted a video tribute to Instagram of Talley, writing, "A devastating loss for fashion today. Rest In Peace Mr Andre Leon Talley.
"
Fashion icons also paid tribute to Talley. Fashion designer Diane von Furstenberg remembered her friend with an Instagram tribute: "Good bye darling André


… no one saw the world in a more elegant and glamorous way than you did


… no one was more soulful and grander than you were


…the world will be less joyful now


I have loved you and laughed with you for 45 years…. I will miss your loud screams and your loyal friendship…I love you soooo much


."
Editorial credit: lev radin / Shutterstock.com