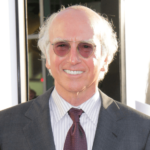 Curb Your Enthusiasm is back for Season 11, and HBO shared a trailer which sees David proclaiming that he's "too smart" to be stuck in traffic, explaining how baldness proves that prayer doesn't work, and much more.
Familiar faces are back, including JB Smoove, Cheryl Hines, Patton Oswald, Jeff Garlin, Jon Hamm, Seth Rogen, Richard Lewis, Vince Vaughn, and Richard Kind, among others.
HBO's Curb Your Enthusiasm is set to premiere on Oct. 24.
Editorial credit: Kathy Hutchins / Shutterstock.com