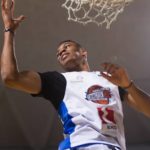 Giannis Antetokounmpo scored 50 points, helping the Milwaukee Bucks end a 50-year title drought by defeating the Phoenix Suns 105-98 to win Game 6 of the NBA Finals. It is Milwaukee's first league title since 1971.
Antetokounmpo, Milwaukee's 6-foot-11 power forward, was the league's back-to-back MVP following the 2019 and 2020 seasons, and led the Bucks in Game 6 with 50 points and a game-high 14 rebounds, earning him the Bill Russell NBA Finals MVP award. He is only the seventh player to have a 50-point game in the Finals.
Milwaukee is the fifth team to win an NBA title after trailing 2-0 in the Finals, joining the 2016 Cleveland Cavaliers, the 2006 Miami Heat, the 1977 Portland Trail Blazers and the 1969 Boston Celtics.
Editorial credit: Ververidis Vasilis / Shutterstock.com